Middle Eastern Food

Mediterranean Origin Healthy Natural Dairy Products and Middle East Specialty Cheeses Remember their Roots
KARLACTI Authentic Handmade Specialty Cheeses
All Natural Mediterranean Specialty Foods
TELBANEER line of
Original Armenian Angel Hair Cheese

Our traditional Armenian b

raided string cheese, called also Fine Tresses, Angel Hair

or Mshallaleh

, is the real Armenian string cheese handmade according to genuine traditions with nigella seeds

(also known as black cumin or black caraway)

.

It is fine braided following the traditional Armenian string cheese production methods.

Karlacti String Cheese comes in the form of a knotted endless loop of fine string braids due to the way it is hand pulled.

You can enjoy it in all seasons.

Vacuum Pack - To be

weighed at time of sale – SKU 73120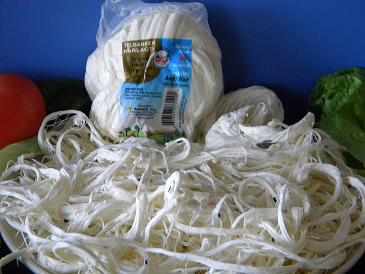 Our delicious real Armenian string cheese, called
Mshallaleh by those having Middle Eastern ethnic origin, is produced in USA and Canada following Armenian traditions according to strict quality standards and distributed by

KARLACTI, Inc. a US Company.
The US string cheese is ready to eat. Just cut it in two parts and disentangle the strings with your fingers.
The Canadian version is dryer and saltier a
s most Mediterranean cheeses to preserve it up to one year.

You can enhance its delicate flavor bathing it in water after disentangling the strings.
Ara Baghdassarian continues the path drawn by his father, Ohannes Baghdassarian. He preserves the historical Armenian heritage of the Baghdassarian family by producing authentic all natural specialty cheeses, Armenian cheese, Mediterranean cheese, Mideastern cheese, specialty Middle Eastern dairy products and natural cheese and dairy food products.
All our products are certified by Dairy Management Inc. with the Real Seal of the United Dairy Industry Association.

E-mail:
contact@karlacti.com
Tel:
703-647-9589

Wholesale Only
Copyright © KARLACTI, INC. 2008-2016 All Rights Reserved
4AB CONSULTING