Middle Eastern Food

Mediterranean Origin Healthy Natural Dairy Products and Middle East Specialty Cheeses Remember their Roots
KARLACTI Authentic Handmade Specialty Cheeses
All Natural Mediterranean Specialty Foods
| | | | |
| --- | --- | --- | --- |
| Home | | Middle Eastern Food | |
Middle Eastern Food Specialty Cheeses Dairy Company
Mediterranean Middle Eastern Food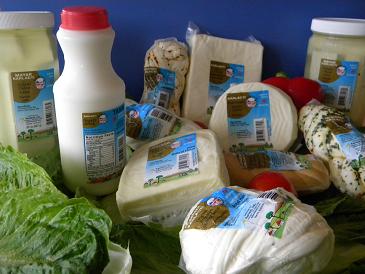 KARLACTI, Middle Eastern food specialty cheeses dairy company, supplies all natural Middle Eastern food, handmade Mediterranean cheeses, fresh cheeses, Mediterranean foods, Middle Eastern cheeses, Armenian cheeses and authentic artisan all natural Middle Eastern food: Akkawi , Ackawi, grilling cheese, frying cheese, Nabulsi, Syrian cheese, angel hair, Mshallaleh fine braided string cheeses, Majdouleh braided string cheeses, fresh farmer's basket cheese, Panela, sweet cheese, mozzarella curd, Chicago cheese, Touma, yogurt drink and variety of Middle Eastern, Armenian, Mediterranean cheeses and dairy foods.

KARLACTI line of gourmet Middle Eastern food includes a wide variety of Mediterranean specialty artisanal hand braided string cheeses: original braided string cheese with caraway seeds, plain hand braided string cheese, Armenian string cheese, marinated string cheese, smoked braided cheese.

Karlacti, Inc. is backed up by Karoun Dairies the 84 years old Middle Eastern food and dairy products company.



Authentic Touma Village Cheese

in Jar

Armenian Cheeses

Fine braided string



All our products are certified by Dairy Management Inc. with the Real Seal of the United Dairy Industry Association.

E-mail:
contact@karlacti.com
Tel:
703-647-9589

Wholesale Only
Copyright © KARLACTI, INC. 2008-2016 All Rights Reserved
4AB CONSULTING